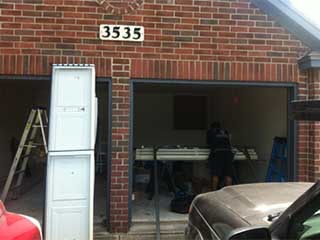 Your garage door is designed to safeguard and maintain your vehicle. However, as with any building or machine, things can go wrong from time to time. It can be a frustrating exercise to try and operate a faulty door, not to mention unsafe. Faults can arise for a number of reasons: environmental factors, prolonged use, or user-error. Our technicians are here to help whatever the problem. Find out more about our garage door repair services below.
Replacing Pulleys
Damaged pulleys can cause your door to open or close incompletely, making it hazardous to operate. Pulleys act as guide for the cables and provide leverage and accuracy as the door is raised and lowered. Your doors may not open or close properly if your pulleys are worn - if yours are showing signs of damage, contact us so we can replace them.
Replacement of Rollers and Rails
Metallic garage door parts such as rollers and rails are susceptible to damage from long-term use or rust. Rust is caused by continued exposure to moisture which can cause your rollers and rails to function improperly. Call us if you need your rollers, rails or any other related parts repaired or replaced.
Get Your Wobbly Door Fixed
If your garage door wobbles as it goes up or comes down, we'll be happy to come and take a look to identify the problem. Sometimes, this could mean your garage door has a faulty component that needs to be repaired or changed. Whatever the case, we'll handle it and make sure it doesn't recur.
For further details about how our technicians can assist you with any garage door related issues, contact our team at Garage Door Repair Henderson today.
We also offer the following services:
Part Replacement & Lubrication
Genie & Liftmaster Opener Repairs
Galvanized Torsion Spring Installation
Broken Garage Door Track Repair