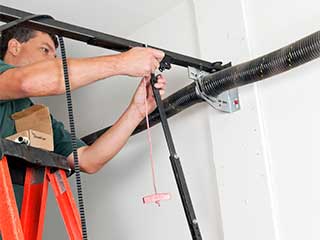 The best way to ensure that your garage door system continues functioning properly for a long time is by having it undergo routine maintenance procedures. This includes a full examination of every part of the system, lubricating all the moving parts that can benefit from it, and repairing small issues before they become big problems.
Track Related Issues
The tracks on your garage door usually work just fine, but if they become dented or misshapen even slightly, your door can start to shimmy when it opens or closes, make awful grinding noises, or just won't seem to be able to open or close at all. Sometimes it's merely a matter of cleaning out a blockage of accumulated debris, other times it's due to some sort of damage. Either way, if during a maintenance appointment our technicians will find something wrong, they'll repair it right away, or even replace the problematic track if it proves to be too damaged.
Opener Safety Testing
Your garage door system has a safety feature that prevents it from closing if an object or a person is blocking its path. It's called the safety reversal mechanism, and the components in charge of it are the opener's photo eye sensors. If they become misaligned, however, or if their lenses become scratched, they could fail to detect an obstacle. Needless to say, this scenario is extremely dangerous. That's why our technicians always test out this safety feature during every maintenance appointment, and realign or replace these sensors if their performance seems to be compromised.
Safe Spring Adjustments
Aside from lubricating your springs, which we will do, making sure their tension is properly distributed and that they haven't become too stretched out is also crucial when trying to make these components last for as long as they can. By making sure they are properly adjusted, we'll be able to prevent unnecessary wear and tear damage from inflicting your springs.
Schedule an Appointment Today
If you'd like your garage door system to last for as long as it can, it's time to give us a call. Our experts at Garage Door Repair Henderson will make sure all of your system's parts are in a good working condition, and repair or replace them if not. Call us today.
We also offer:
Garage Door Tune Up Services
Door Opener Troubleshooting Services
Garage Door Extension Spring Replacement
Bent Garage Door Track Repair